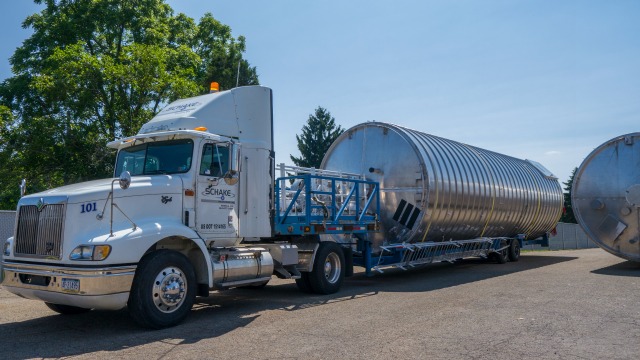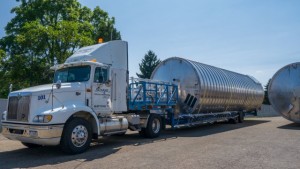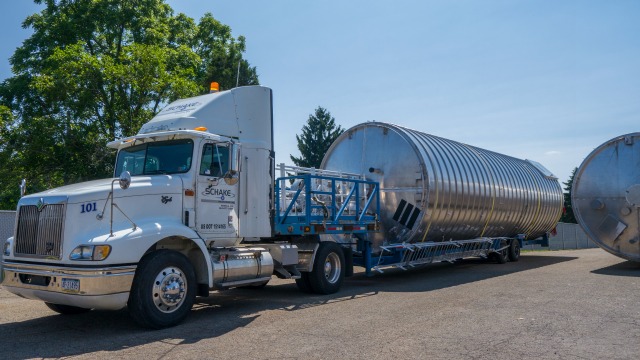 In 2015 Schake Industries set the stage for sustainable, rapid growth by focusing on establishing sales representatives across the United States and developing the marketing tools needed to promote its products and services. Representatives have been added to cover most of the east coast and southwest.  In 2016 the company will be adding sales representatives in the mid-west and northwest, as well as developing a direct marketing team through an innovative partnership with Gibbons Business Solutions of Oil City.
Schake Industries was founded in 1997 and originally focused on industrial coatings, but the vision from the beginning was to be more than a painting company. Having grown into a manufacturer of spiral aluminum silos, above-ground storage tanks, and hydraulic, lubrication and pneumatic systems, the company is now shipping both domestically and internationally from its facility in Seneca.
"This has been an exciting year for us" said owner Steve Schake. "This year we've hit some big milestones that are putting Schake Industries on the map. We're building our brand and getting the word out about the great products and services we provide to a much larger market."
Schake Silo Division was established in 2005 with the acquisition of equipment and personnel from a local manufacturer. Over the years, the company has dedicated considerable effort and resources to improving the manufacturing process, which has allowed it to offer a better product at a more competitive price. Schake continues to invest in their spiral silo division, making sure that the product remains on the cutting-edge of the industry and that they are able to employ the newest technologies available.
Schake Hydraulic Division was created in 2009 and utilizes its engineering staff's more than 40 years of experience in designing and re-engineering a wide range of hydraulic and related equipment. Their in-house capabilities include design, repair, custom manifold design, fabrication, painting, grit blasting, mechanical/electro-mechanical assembly, testing and reverse engineering of obsolete components. Schake Hydraulics' core competency is in 500 psi to 8000psi hydraulic systems, lubrication systems, pneumatic systems, water cooling skids, nitrogen stands and accumulators.
Schake Tank Division was added to the company in 2010 when it acquired the assets, personnel and expertise of an above ground storage tank company, complementing the spiral aluminum silo products and services. Their experienced field crews and dedicated field equipment allows the company to offer comprehensive silo and above-ground storage tank construction, repair and re-location services.
Schake strives to be a complete source for their customers' silo product and service needs. Schake's comprehensive list of silo, tank and hydraulics products and services put them in a good position to fulfill this goal.
Schake's growth into this diverse company is a result of their quality products and services, commitment to finding solutions for their customers, and the values they apply to their business relationships. The company has built strong customer relationships and proudly reports that they are still working with all of their original customers.
While the company is dedicated to sustaining relationships, Mark and the regional sales reps he oversees are looking to market Schake's silo products and services to new customers in the plastics, foods and pharmaceuticals industries. This includes initiating a nationwide outreach effort to directly contact companies in those industries and introduce them to Schake's products and services. Mark Berringer, Sales Manager, says "Our focus now is to expand our customer base.  There's a huge potential for us to grow our market and we're positioning ourselves to do just that, with a determination that every customer becomes a customer for life."
The company has also launched an aggressive new marketing plan including the production of videos, printed materials, and new websites for the corporation and each of its three divisions. Schakeinc.com, SchakeSilo.com, SchakeTank.com and SchakeHydraulic.com utilize the latest web technology and feature company videos and details on the products and services offered by each of the company's Divisions. The company has recently launched Facebook, YouTube and LinkedIn accounts to aid in its networking, name recognition and visibility, and to support its other marketing efforts.
Operations Manager Jim Kline says they keep their customers because quality, honesty, integrity and commitment are the foundation of the company. "My installation and service teams are the front-line representatives for Schake Industries.  We treat our customers the way we want to be treated and always strive to exceed their expectations," Jim explains.
The quality of Schake's products and services is attributed to the company's skilled, experienced and dedicated employees. Honesty and integrity are evidenced by their ability to retain their customers.  Their commitment is in their dedication to better serving their customers' needs; investing in new equipment, talented employees and technology to improve product quality and lower costs, ensuring that they can meet their customers' business challenges now and in the future.
The company is also committed to community, supporting local causes and organizations, such as the YMCA, United Way, Little League, March of Dimes, Big Brothers & Sisters, the American Cancer Society, and many others.  Steve Schake explains "We invest in our community just like we invest to grow and improve our company and products.  It's good for our community, our employees and our company."
The company's plan for 2016, according to Steve: "We'll continue to seek related manufacturing and service opportunities as we expand our market for our existing products and services. I expect a very good year ahead."
Schake recently added a Facebook page. Follow "Schake Industries Inc." to keep up on what's happening with this fast-growing local company.
Schake Industries is located at 3467 State Route 257 in Seneca. Contact Mark Berringer at 814-677-9333 or sales@schakeinc.com to discuss your silo, tank or hydraulics needs.
http://schakeinc.com/wp-content/uploads/2016/02/Schake-Business-Review-Photo-1_web.jpg
360
640
Admin
http://schakeinc.com/wp-content/uploads/2015/12/Schake-Industries_Logo-1-300x100.jpeg
Admin
2016-02-26 19:10:50
2017-11-05 20:41:47
Schake Industries 2016 Business Review