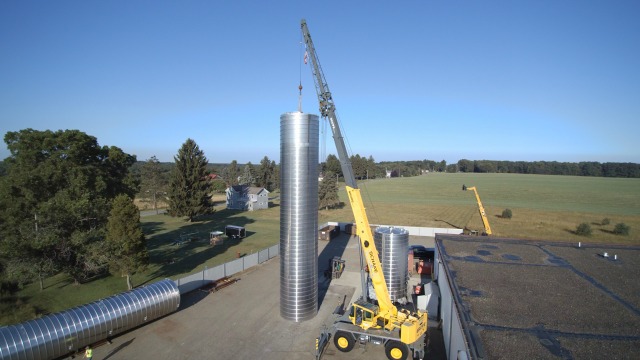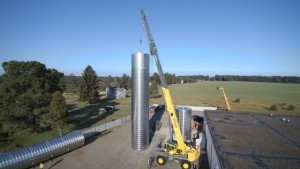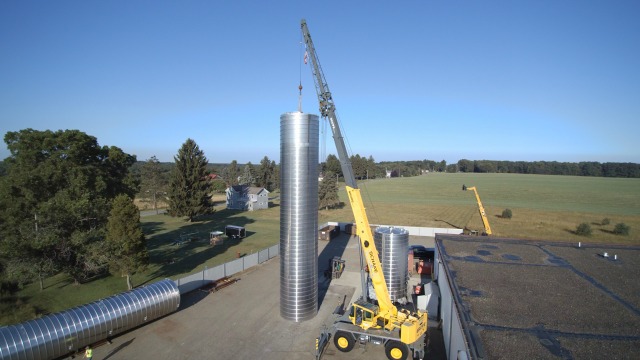 Schake Industries, Inc. was founded by Steven A. Schake in 1997. The company began operations as an industrial sandblasting and painting company, and has evolved into a company which manufactures Spiral Aluminum Silos, Above Ground Storage Tanks, and a variety of Hydraulic, Lubrication and Pneumatic Systems. These products are used in a variety of industries including plastics and resins, industrial chemicals, and scrap or waste storage.
In 2005 Schake Industries acquired a Spiral Aluminum Silo business from a local manufacturer, creating Schake Silo Division. This acquisition included the Silo Roll Forming Machine and engineering drawings, along with miscellaneous equipment, and enabled them to start manufacturing these unique Spiral Silos. Over the years, Schake Industries has made manufacturing improvements to this product. One of the major improvements was using high-quality 5052 H32 Aluminum Coil. The second is continuous bead welding on the inside of the Double Crimped Spiral Seam, which helps to prevent material hang-up points and contamination. The third major improvement was upgrading the bearings of the Silo Forming Machine, to allow closer tolerances while providing much better crimping of the Spiral Seam.
Schake Hydraulic Division was created in 2009 and utilizes their engineering staff's 40+ years of experience in designing and re-engineering a wide range of hydraulic and related equipment. Their in-house capabilities include design, repair, custom manifold design, fabrication, painting, grit blasting, mechanical/electro-mechanical assembly, testing, and reverse engineering of obsolete components. The division's core competency is in 500 psi to 8000 psi hydraulic systems, lubrication systems, pneumatic systems, water cooling skids, nitrogen stands and accumulators.
Schake Tank Division was added in late 2010, when Schake Industries acquired the assets, personnel and expertise of an above ground storage tank company. This acquisition complemented Schake Industries' existing Spiral Aluminum Silo and Silo Services capabilities. Experienced field crews and dedicated field equipment enable silo and above ground storage tank build and repair requirements to be met.
From the company's founding until late 2013, Schake Industries was housed in an industrial complex. Then, in 2013, land and a modern 31,000 sq. ft. facility were purchased in Seneca, PA. This acquisition provided Schake the opportunity for future expansion, and has greatly improved truck and infrastructure access.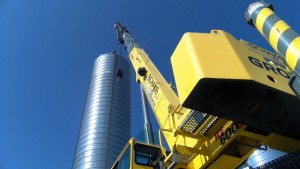 "2016 was a good year for us," explained owner Steve Schake. With a 20% increase in sales last year, Schake invested in equipment and infrastructure to expand in-house fabrication and field service capabilities. "We outsourced some of our fabrication work," Schake said. "Bringing those processes in-house will improve our turnaround times and allow us to better control the process and quality." The company purchased a Messer burn table, angle and pipe rolls, and added several aluminum welding booths. The increased in-house capacity also prepares Schake Industries for focused expansion of related products and services, while preparing to meet the demands of a greater market.
Schake uses direct mail, web, video, and social media (Facebook, Twitter, and LinkedIn) to reach their target market, as well as attending trade shows. In 2016 Schake Industries also established sales representatives in the midwest and northwest, setting the stage for sustainable growth. "Last year we launched an aggressive marketing campaign with new websites for our three divisions, created new printed materials, held sales rep training, and produced several videos to better present our company to a broader market," explained Purchasing/Sales Manager Mark Berringer. The 2017 focus will be to continue these efforts and develop sales outreach in the southern and eastern US. This nationwide effort positions the company for increased direct contact with new customers in the plastics, foods, and pharmaceuticals industries.
The company now ships and installs products and provides repair services across the United States, Canada and Mexico. The purchase of a 50-ton crane last year enhances their field service fleet. Heading the installation and service teams, General Manager Jim Kline says "We have a highly skilled, dedicated team that believes in exceeding customer expectations. They are the front-line representatives for Schake Industries and understand the importance of building strong customer relationships."
The company is also committed to community, supporting local causes and organizations such as the YMCA, United Way, Little League, March of Dimes, Big Brothers and Sisters, the American Cancer Society and many others. "This is where our employees live and we believe building a better community is good business," Schake said.
Schake Industries is located at 3467 State Road 257 in Seneca. For information contact Mark Berringer at 814-677-9333 or visit their website www.schakeinc.com.
http://schakeinc.com/wp-content/uploads/2017/01/Schake2_web.jpg
360
640
Admin
http://schakeinc.com/wp-content/uploads/2015/12/Schake-Industries_Logo-1-300x100.jpeg
Admin
2017-01-21 17:01:31
2017-11-05 20:34:23
Schake Industries 2017 Business Review